Pain-free All-in-one Solution with rich features and elegant design for your library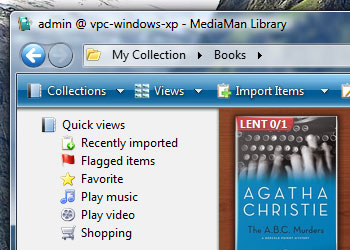 MediaMan Library is the definitive solution to manage a library of books, and audio/visual materials in your office or school.
MediaMan Library uses PostgreSQL, an advanced database server as back-end for centralized storage of data. Users can start MediaMan Library from any computers connected to this server through LAN (Local Area Network), to browse library contents or to perform administrative tasks.
MediaMan Library is based on version 3.0 of MediaMan, an award-winning personal collection organizer software. So you can enjoy everything MediaMan has, such as automated content retrieval from Amazon, virtual-shelf rendering,categories, tags, and webcam barcode scanning.
These features not only provide fine visual renderings, but also ensure maximum convenience, and short learning curve when you import and establish the content of the library.
Functions, such as importing and tagging, are designed to require minimum user-intervention. So you don't have to answer a lot of questions while working on these simple tasks.
Centralized Content Storage, with the best available free open source database engine
MediaMan Library stores all content in a server within your local network, so that any computer in this network can have access to the library content simultaneously. This will not be possible without PostgreSQL, the worlds's most advanced open source database engine.
PostgreSQL is a powerful, enterprise-class database engine. It is absolutely free for all uses. And it conforms to the ANSI-SQL92 and ANSI-SQL99 standards.
What's best about PostgreSQL is that it can run on all major platforms. So you can turn your existing Intranet servers, file servers, or even internal mail servers into MediaMan Library data storage. Just follow the setup guide and your database server will be up within minutes. Plus, MediaMan Library benefits from the outstanding performance and security that PostgreSQL provides, making your library content both accessible and robust.
Copies, Contacts, Check-outs, manage all of them in one place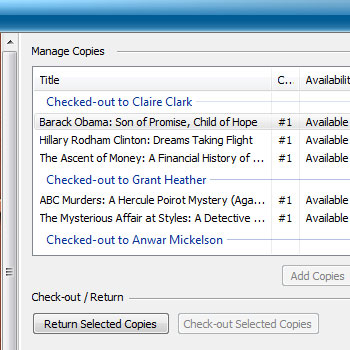 MediaMan Library is not only capable of keeping the records of the items of your library. It can also manage loan status for individual items. If your library is open for staff to borrow stuff to their homes, MediaMan Library will be helpful in keeping track of those items.
The copy management tab let you know the whereabouts of each item. Administrators use functions on this tab perform tasks such as check-out and return.
If you have multiple copies of a same book, you don't have to duplicate them or import them several times. You can create copies here in the copy tab. The loan status is tracked per-copy.
MediaMan Library is also capable of managing a contact list so that you can have more details while tracking checked-out copies.
Tracking records can be entered in less than a minute thanks to features such as the flag mode, which lists items by loan status, date, or contact; and search by webcam barcode scanner, which quickly locates items by barcodes.
Lowering Cost and Control Access, a solution that never gets more expensive as you grow
An administrator can import and modify the content of the database, but MediaMan Library also support read-only users who can only browse the content of the library but can never change a field. This way, the library can be made visible to all computers across the network.
And what's even better, is that you don't need to pay for them. Read-only nodes comes free with any number of administrators' license. So if you have only one library administrator, you will need to purchase only one license, regardless how many computers in your organization are actually using MediaMan Library.
Therefore, you have total control of your cost. If the size of your library or your organization grows, the cost of running MediaMan Library will still stay the same. There is absolutely no hidden charges.
On top of these great features, you also get:
Customizable intuitive user-interface
Instant search within collection
Support for automated batch import using keywords and USB barcode scanner
Exporting and printing to other formats
Retrieve information from additional websites using the data source open specification
Full Unicode-compatible architecture allows to work with any languages
Windows Vista and Limited User Account friendly
Outstanding program performance and robust network connectivity
No cost or royalties on server software
Open database design for custom development and reusable data
Automated self-update
Download MediaMan Library now! Free for 45 days.
MediaManLibrary1Setup.msi (for WinXP,Vista), or MediaManLibrary1Setup-x64.msi (for WinVista x64)
PostgreSQL database server doesn't come with MediaMan Library. You must install it separately from www.postgresql.org . Knowledge of SQL database management system is required during installation. Check out the setup guide for more information.
View MediaMan Library and PostgreSQL first time setup guide.
Purchase MediaMan Library for $139.95
View frequently asked questions
Screenshot Gallery